Can she cook up the perfect recipe for love?
Jolie Gardener, personal chef by day, aspiring romance writer by night, likes to talk and does it a lot. She has to because if she stops, all the pain, disillusionment, and abandonment of her AWOL mother, question-mark father, and foster-care childhood will rise up like a chocolate soufflé on steroids, sweeping away the fragile infrastructure of her life.
But she's fine. Really. She is.
Or so she thinks.
Todd Best isn't fine. He knows it. And doesn't care.
After his wife died—the woman who believed in him when he was a struggling artist—he put painting aside, moved from their home, and lost himself in the minutiae of daily life.
Alone. Private. The way he likes it.
The last thing he needs is some chatty cook seeping into the perfectly bland canvas of his life.
Or so he thinks.
So when Jonathan, a guardian-angel-in-training, turns himself into a kitten to help these two lonely souls find a happily ever after together, it ought to be a piece of cake.
Or so he thinks…
*********************************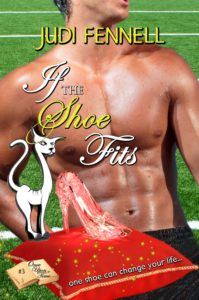 Once upon a time…
a long time ago
in a land far, far away,
there lived a girl by the name of Cinderella.
This is not her story.
This is the story of Lucinda Isabella Casteleoni,
who, like her namesake,
has a wicked stepmother, two tacky stepsisters,
and countless hours of hard work to (not) look forward to.
But unlike that fairy tale princess,
Bella's Prince Charming is nowhere to be found.
Until a little old man with sparkling green eyes
opens a shoe store down the street.
Then the magic begins…
*********************************
A future to look forward to
Kate Lawton, a successful advertising executive has it all: the respect of her colleagues, the trappings of her career and an adopted daughter on the way. She doesn't need the tall, dark, and handsome part—been there, done that, has the t-shirt. She also has a few interesting souvenirs from the Renaissance Faire her friend drags her to for a fun girl's weekend.
She got a little more than she'd bargained for.
A past filled with intrigue
Alexander Traverse, earl of Shelton, is planning to marry to please his king, but the family heirloom engagement ring has been stolen. Legend says that the family's luck is tied to the ring though Alex puts no stock in it. Yet when other items go missing from his estate and a gypsy spouts dire warnings of doom and gloom, his friends urge him to reconsider.
Alex would rather find the thief.
Time's Up…
But when Kate travels from the twenty-first century to the fifteenth, Alex realizes that there might be more to the legend of the ring than he'd previously thought.
And there's a whole lot more to Kate than meets the eye.